Buy
Surgeon Simulator 2013

digital download, CD key best compare prices
Here's a handy clipboard to explain what you get in each version of Surgeon Simulator!
If you already have Surgeon Simulator 2013 no need to have a heart attack!
UPGRADE by purchasing the Anniversary Edition Content DLC above – you will receive all the A&E content and the LATEST surgery – Inside Donald Trump!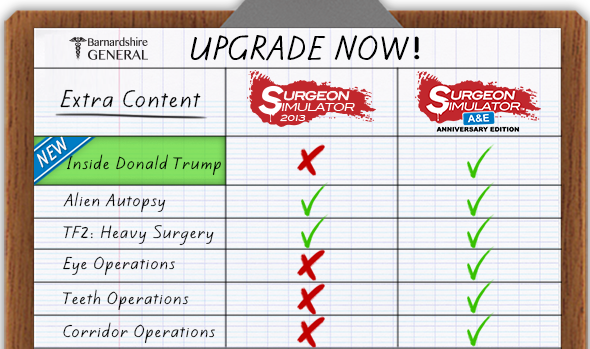 Malpractice Makes Perfect.
Surgeon Simulator 2013 is a darkly humorous over-the-top operation sim game where players become Nigel Burke, a would-be surgeon taking life into his own shaky hands, performing life-saving surgical manoeuvres on passive patients. Curious to know how Bob, the patient ended up on the operating table? Check out 'I am Bread' - the prequel to Surgeon Simulator, also available on Steam!
The original prototype – developed in just 48 hours at the 2013 Global Game Jam in January – challenged players to complete a heart transplant, armed only with an arsenal of clumsy and inappropriate tools and a hand that was diabolically difficult to control, using a combination of keyboard and mouse actions.
The full Steam version comes with additional features, operations and environments. From carrying out terrifying transplants in theatre to surgical procedures in the back of an ambulance, Surgeon Simulator 2013 now takes operating to the next level.
Surgeon Simulator 2013 Contains:
- TF2 mode – be the Medic and operate on the Heavy!
- Alien Autopsy level – Surgery in space!
- New achievements to explore and brag about!
- More operations including double kidney transplant and brain transplant
- New visuals and a pumping new soundtrack
Publisher:

Bossa Studios

Genre:

Action, Indie, Simulation

Release Date:

Metacritic:

Market price:

€9.99

Web:

Official Website