Comprar
Ashes of the Singularity: Escalation

CD Key Comparar Precios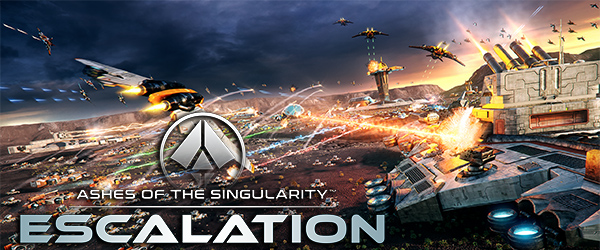 La raza humana se ha expandido por la galaxia gracias a las maravillas de la singularidad tecnológica. Te has vuelto tan poderoso que puedes manejar grandes ejércitos a través de un mundo que te proporciona un imperio galáctico cada vez más grande.

Ahora, la humanidad se encuentra bajo el asedio de un nuevo enemigo. Se denominan Sustrato y quieren aniquilar la raza humana. Como prometedor miembro de la Coalición Poshumana tendrás que lidiar con esta nueva amenaza y con los humanos renegados que intentan reclamar sus propios mundos.

Ashes of the Singularity: Escalation recoge la esencia del galardonado juego de estrategia Ashes of the Singularity y lo expande. Mundos más grandes. Más jugadores. Más unidades. Más historia. Más de todo.

Puedes ponerte en la piel de la Coalición Poshumana o de sus eternos enemigos, los Sustrato, y luchar por el control de la galaxia. Experimenta mapas con un tamaño y un nivel de detalle nunca vistos gracias a la incomparable potencia del primer motor de juego nativo de estrategia en tiempo real de 64 bits: Nitrous.

Disfruta del juego en línea con tus amigos en modo multijugador con o sin clasificación o juega solo contra una poderosa IA con sistema antitrampas en modo escaramuza o campaña. No importa en qué modo juegues, la estrategia es la clave: lo más importante para ganar es decidir qué tecnologías investigar, a dónde mandar los ejércitos, cómo gestionar la economía, y qué recursos construir.

Las nuevas características de Escalation se suman al juego base para crear batallas aún más grandiosas, estrategias diferentes y emocionantes guerras por mundos y mapas complejos. El conflicto ha llegado a su punto álgido, es hora de elegir bando.
Genre:

Indie, Simulation, Strategy

Release Date:

Metacritic:

Market price:

39,99 €

Web:

Official Website
Stores & Prices
| Store | Delivery | Price | Link |
| --- | --- | --- | --- |
| | Instant | 0,49 € | Go to shop |
| | Instant | 0,59 € | Go to shop |
| | Instant | 0,69 € | Go to shop |
| | Instant | 0,92 € | Go to shop |
| | Instant | 0,95 € | Go to shop |
| | Instant | 0,99 € | Go to shop |
| | Instant | 1,52 € | Go to shop |
| | Instant | 1,59 € | Go to shop |
| | Instant | 1,72 € | Go to shop |
| | Instant | 1,82 € | Go to shop |
| | Instant | 2,14 € | Go to shop |
| | Instant | 4,22 € | Go to shop |