Acheter
Ashes of the Singularity: Escalation

Clé CD Comparateur Prix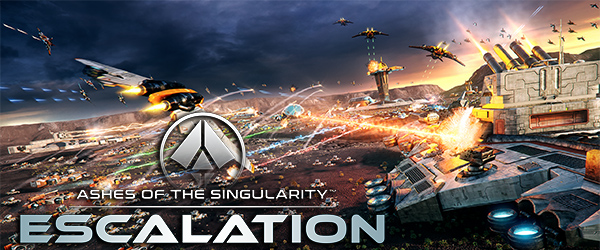 Grâce aux merveilles technologiques de la singularité, la race humaine s'est répandue dans la galaxie. Vous êtes devenu si puissant que vous pouvez gérer d'immenses armées à travers un univers qui vous ouvrira les portes d'un empire galactique démesuré.

L'humanité est prise d'assaut par un nouvel ennemi. Se faisant appeler le « Substrat », il cherche à tirer un trait sur l'existence de la race humaine. Vous êtes un membre prometteur de la coalition post-humaine et devez vous occuper de cette nouvelle menace ainsi que de renégats humains essayant de s'approprier leurs propres mondes.

Ashes of the Singularity : Escalation reprend tout ce qui a fait de Ashes of the Singularity un jeu de stratégie récompensé et l'étend dans tous les sens possibles. Des mondes plus grands. Plus de joueurs. Plus d'unités. Plus d'histoire. Plus de tout.

Plongez dans le jeu en ligne avec des amis, lors de matchs en mode multijoueurs classés et non classés, ou jouez-y solo contre une IA puissante, mais équitable dans des modes escarmouche et campagne. Quel que soit votre mode de jeu de prédilection, le secret de la victoire réside dans la stratégie : décidez quelles technologies rechercher, où envoyer vos armées, comment gérer votre économie, quelles seront les unités cruciales à votre victoire.

Les nouvelles fonctionnalités d'Escalation renforcent le jeu de base et tracent la voie vers des batailles encore plus grandioses, des stratégies encore plus diversifiées, des guerres encore plus captivantes, tout cela dans des mondes uniques aux cartes complexes. Le conflit s'est intensifié.... Et il est temps de choisir votre camp.
Genre:

Indie, Simulation, Strategy

Release Date:

Metacritic:

Market price:

39,99 €

Web:

Official Website
Stores & Prices
| Store | Delivery | Price | Link |
| --- | --- | --- | --- |
| | Instant | 0,49 € | Go to shop |
| | Instant | 0,59 € | Go to shop |
| | Instant | 0,69 € | Go to shop |
| | Instant | 0,92 € | Go to shop |
| | Instant | 0,95 € | Go to shop |
| | Instant | 0,99 € | Go to shop |
| | Instant | 1,52 € | Go to shop |
| | Instant | 1,72 € | Go to shop |
| | Instant | 1,82 € | Go to shop |
| | Instant | 2,00 € | Go to shop |
| | Instant | 2,14 € | Go to shop |
| | Instant | 4,22 € | Go to shop |